Mazda (マツダ)
RE-AMEMIYA GruppeM-RX7
Drivetrain: FR
Event: D1GP Collaboration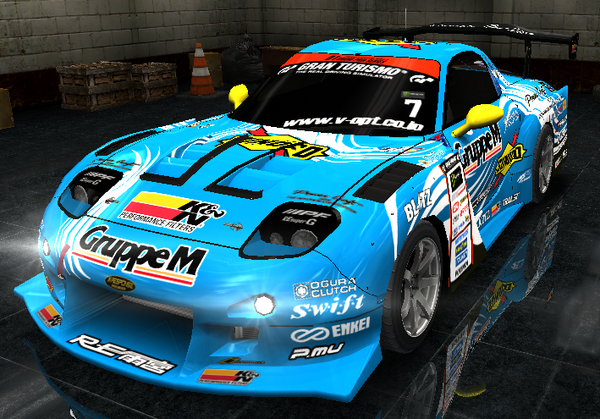 | Rarity | Power | Speed | Acceleration | Handling | Nitrous | Gas |
| --- | --- | --- | --- | --- | --- | --- |
| ★★★★★★ | 542 | 2659 | 1100 | 2877 | 4211 | 610 |
| ★★★★★★+ | 548 | 2689 | 1130 | 2907 | 4241 | 610 |
| ★★★★★★++ | 554 | 2719 | 1160 | 2937 | 4271 | 610 |
Trivia
This Car In D1GP 2015 is driven By #7 Masao Suenaga.
This car can only be gotten by staying in the top 300 in the D1GP King of Kings, in the BR#4 ticket orders or through the 3000 Gold order.
Ad blocker interference detected!
Wikia is a free-to-use site that makes money from advertising. We have a modified experience for viewers using ad blockers

Wikia is not accessible if you've made further modifications. Remove the custom ad blocker rule(s) and the page will load as expected.