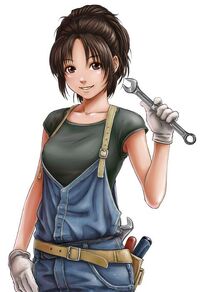 Haruka is the Garage owner and appears in the Story as a side character. She helps you and Namiko out in the Story and handles the CP Order in the Dealership. Later in the Story, she tries to act like she's captured by The Kamikaze Union but puts on a horrible act that's picked up easily by Namiko.
Haruka appears in Boss Battle Events, awarding 5 Nitrous Tanks upon defeating her.
Haruka drives a Wine Red Mazda Roadster NCEC
Related Characters
Ad blocker interference detected!
Wikia is a free-to-use site that makes money from advertising. We have a modified experience for viewers using ad blockers

Wikia is not accessible if you've made further modifications. Remove the custom ad blocker rule(s) and the page will load as expected.