Nissan (日産)
GReddy 35RX Spec-D
Drivetrain: FR
Event: D1GP Collaboration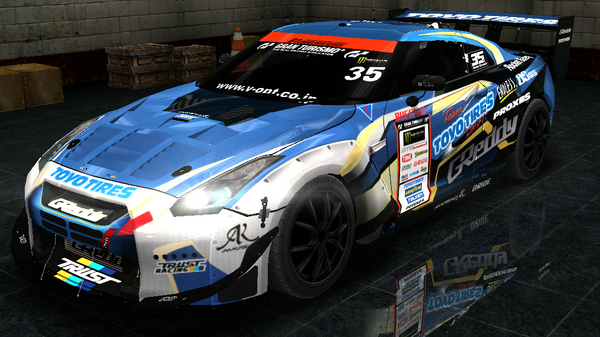 | Rarity | Power | Speed | Acceleration | Handling | Nitrous | Gas |
| --- | --- | --- | --- | --- | --- | --- |
| ★★★★★★ | 557 | 2690 | 1269 | 2974 | 4220 | 600 |
| ★★★★★★+ | 563 | 2720 | 1299 | 3004 | 4250 | 600 |
| ★★★★★★++ | 569 | 2750 | 1329 | 3034 | 4280 | 600 |
Trivia
The driver of this car is Masato Kawabata #35.
The only way to get this car was to be in the top 500 of the D1GP Boss Battle, top 50 in any TA category other than SP, top 500 in the SP TA Class, and top 10 in the D1GP King of Kings. It was also available in the 3000 Gold order.
Ad blocker interference detected!
Wikia is a free-to-use site that makes money from advertising. We have a modified experience for viewers using ad blockers

Wikia is not accessible if you've made further modifications. Remove the custom ad blocker rule(s) and the page will load as expected.