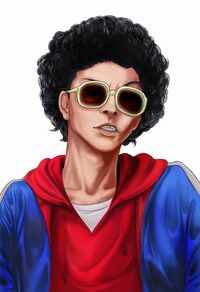 Afro Hiroshi is the first boss you come up against in the game. In the Story, Namiko was supposed to go up against Afro but instead you versus him. Once you defeat Afro he follows you around in the game and is often treated roughly by the other characters in the game. He is often refereed to as a "Luck Pusher" by other characters in the game.
As a filler event, there is sometimes a special campaign where you can go up against different versions of Afro. The most commonly known one is Golden Afro.
He drives a Toyota Sprinter Trueno AE86
Color: High Flash Two Tone
Related Characters
Ad blocker interference detected!
Wikia is a free-to-use site that makes money from advertising. We have a modified experience for viewers using ad blockers

Wikia is not accessible if you've made further modifications. Remove the custom ad blocker rule(s) and the page will load as expected.